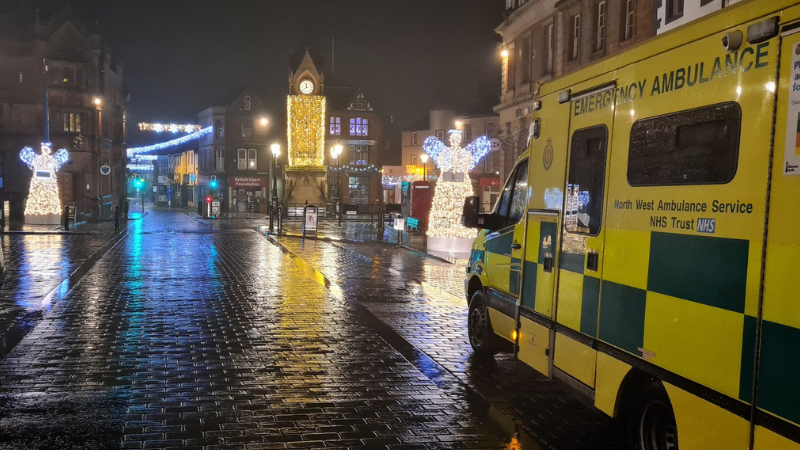 Whilst we know Christmas will be very different this year due to COVID restrictions, we also know people across the region will be looking for ways to blow off steam and forget the stresses from this year.  We would urge everyone to think twice about taking drugs to avoid devastating consequences, not just for themselves but for their loved one too.
Jonathan King NWAS Mental Health Triage Car Lead for Liverpool recalled an incident he attended to:
"I once went to a seventeen year old lad who had taken cocaine for the very first time. We arrived to find him looking seriously unwell and acting in a very strange manner. The lad told us he had been using cocaine but had not told anyone what he had been taking.
"We stabilised him and took him to hospital as it appeared he was suffering with acute behaviour disturbance which is a rare form of severe mania. This could have easily resulted in sudden death from cardiac arrest. It was a very scary experience for him."
"We've seen the consequences first hand when people try drugs for the first time, which can often lead to an addiction on some level to those who have been using drugs long term. Those individuals can't just stop using drugs when they really want to, even after it may have caused terrible consequences to their physical and health and other aspects of their lives. Our job can be so rewarding, but this side of things is really difficult to witness."
If a friend or somebody you know has taken a drug overdose, they may be:
anxious
tense
panicky
overheated or dehydrated
drowsy
Advice for people who is concerned for somebody who might have taken drugs:
stay calm
calm them and be reassuring – don't chase or scare them
try to find out what they have taken
tell them to take slow deep breaths
don't give them coffee – this will overestimate them even more
don't put them in a cold bath – there is a risk of drowning
If they are unconscious or have difficulty breathing then you should immediately call 999, place them in the recovery position if it is safe to do so and stay with them until the ambulance crew arrive.
Thanks to EMT1 Simon Walton for the picture.